Which Juneau Helicopter Tour Should You Do?
October 12, 2020 / updated June 25, 2020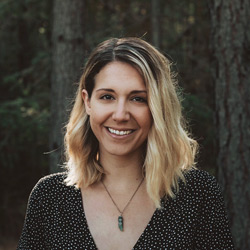 Juneau helicopter tour options are numerous, and they make for some of the absolute best excursions in Alaska! Picking which one is right for your group can be a challenge. Some people prefer to experience walking on glacier ice, while others have their heart set on a dogsled ride on the snow. Use this guide and the chart below to decide which Juneau helicopter excursion is right for you!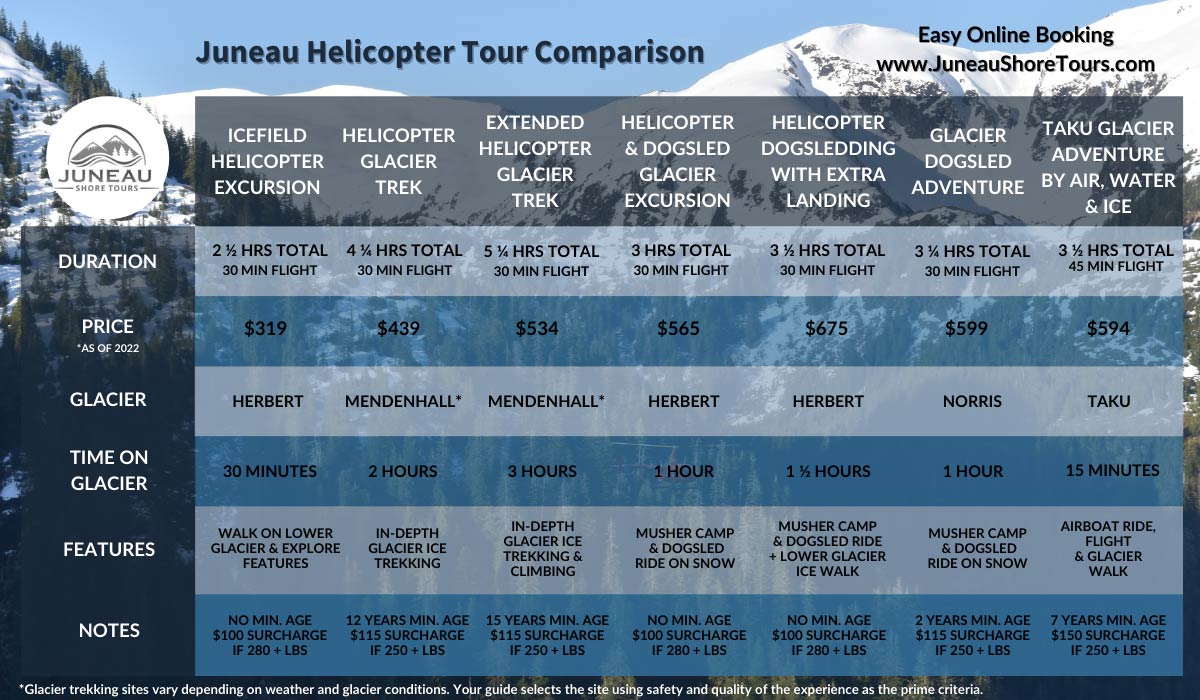 View all Juneau helicopter tours
---
How much time do you have?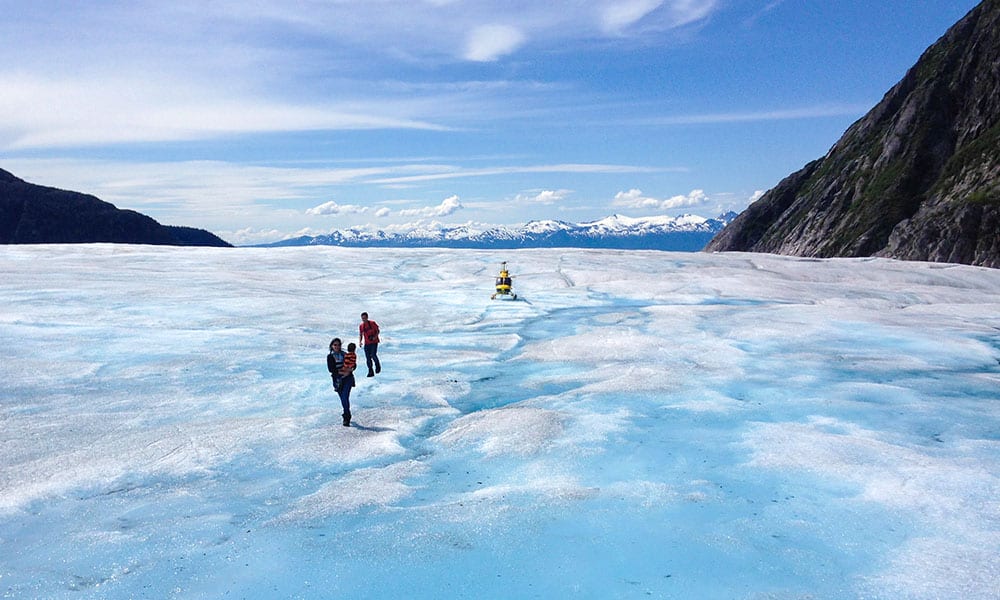 Helicopter tours in Juneau vary in length from 2 ½ hours to over 5 hours! It's important to note that these durations include transportation time for pick up and drop off, which is about 20-30 minutes from the cruise ship port to the helicopter base. All of our Juneau helicopter tours provide roundtrip transportation. The Icefield Helicopter Excursion is a good choice for cruise ship passengers with a very limited time in port!
Shortest Duration: Icefield Helicopter Excursion
Dog sledding on snow, ice walks, or both?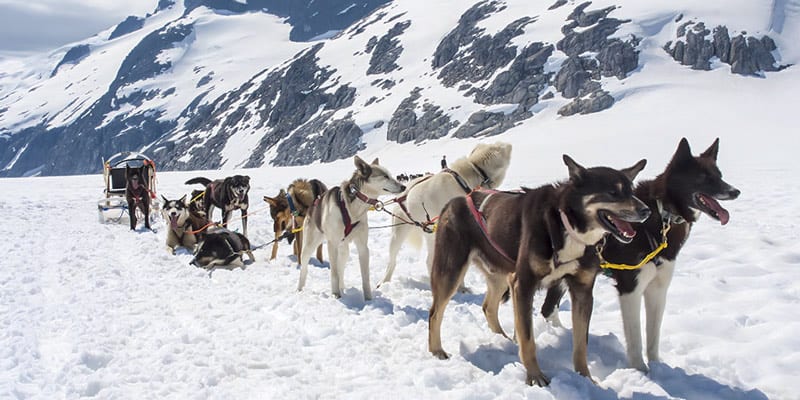 There are a few Juneau glacier helicopter excursions available for those who'd like to experience the thrill of dog sledding on snow! The musher and their team of Alaskan Husky athletes are flown up to the glacier dog camp early in the season to set up in advance of the summer tours. It's important to note that the dog camp is high up on the glacier because a certain amount of snow is needed. We always hope that these tours can run through the entire summer season, but if it's a hot summer and the snow melts, the musher and dogs are flown back down for the season. Sometimes this can happen as early as the beginning of August, so if you're booking your glacier dogsledding tour in August you'll need to prepare for the potential of your tour being canceled.
Additionally, because these once-in-a-lifetime glacier dog sled rides operate at the top of the glacier on the snow, you won't be experiencing the glacier ice up close and personal like you would with the other glacier helicopter tours. If your group has mixed feelings about this, fear not! Our Helicopter Dogsledding with Extra Landing tour has you covered! This tour combines the Helicopter & Dogsled Glacier Excursion with the Icefield Helicopter Tour, giving you the best of both worlds!
Combination Tour: Helicopter Dogsledding with Extra Landing
How much glacier interaction do you want?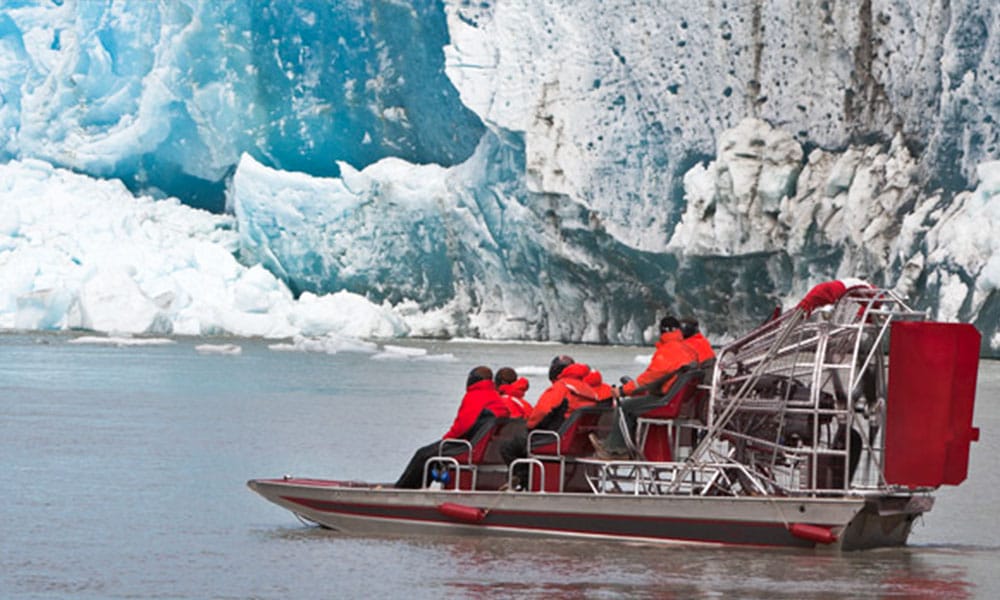 For most people, experiencing a glacier is a once-in-a-lifetime adventure, so we highly recommend choosing a tour that will give you the most time that your schedule and wallet will allow!
Folks that love combining activities and seeing as many different glacial features as possible should look no further than the Taku Glacier Adventure by Air, Water & Ice. While this excursion offers the shortest time actually walking on the glacier, it offers the longest flight time plus an exciting airboat ride for a unique view that wouldn't otherwise be accessible!
Interested in an in-depth glacier ice trek to really cover ground and experience the different features? You'll love the Helicopter Glacier Trek and the Extended Glacier Trek!
As previously mentioned, the dog sledding tours take you up to the top of the glacier where it's all packed snow, so unless you book the Helicopter Dogsledding with Extra Landing you'll be enjoying the views of the glacier ice formations by helicopter rather than foot.
Most Glacier Interaction: Extended Helicopter Glacier Trek
How big is your group?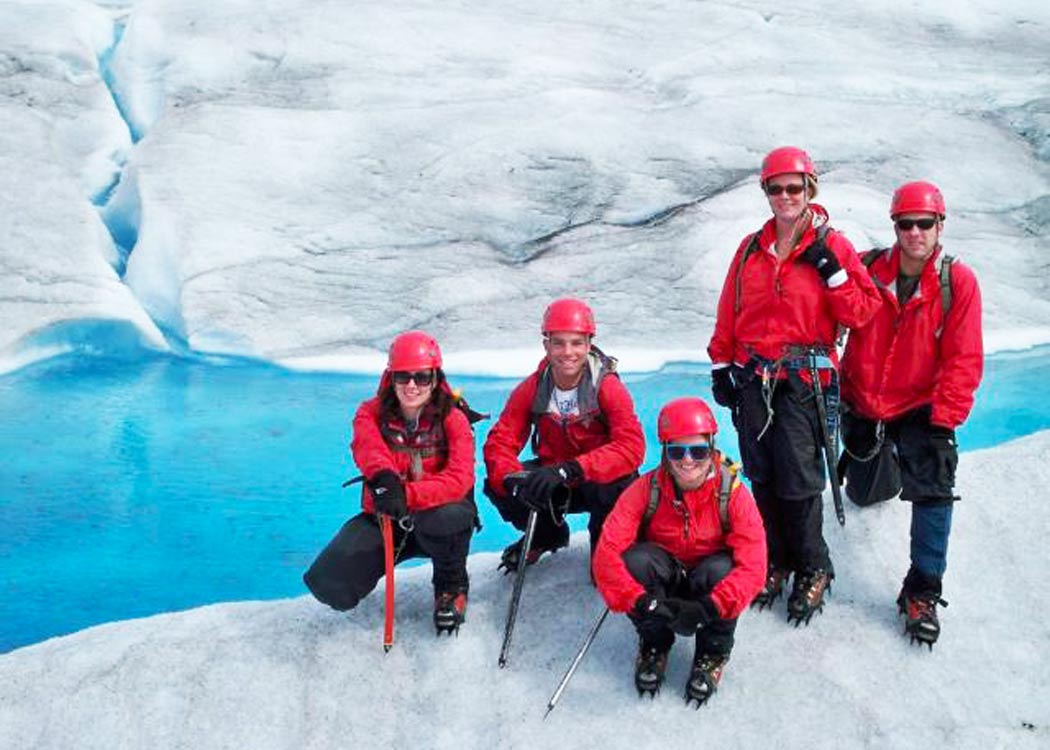 Every Juneau helicopter tour requires that three seats be booked before the tour will actually happen. If you are traveling solo or as a couple, you may want to stick to one of the more popular tours, such as the Icefield Excursion. That is the best way of ensuring that your tour goes out as expected. However, all of these tours are very popular and book up way in advance on cruise ship days, so my recommendation is to take a chance and book the tour you have your heart set on!
If you have a big group, it's important to note that each helicopter only seats six people, but there are several helicopters that can/will be flown up at the same time. Furthermore, the guides assign seating depending on weight distribution to ensure a safe flight so if your party is split up you will still land together on the glacier.
Other things to keep in mind:
No bags are allowed in the helicopters, so bring only the essentials with you. If you have medical needs, they will be able to accommodate you.
There is no minimum weight, however, each tour has different limits before a surcharge is applied. See each tour for specifics, but generally, passengers weighing more than 250 pounds are subject to an additional $100-$150 cost to secure extra space in the aircraft.
Many of these tours (other than the longer treks) can accommodate folks with limited mobility. Contact us to help you determine which tour will be best for you!
Roughly 15% of Juneau helicopter tours are canceled due to weather. If the pilots determine that it's not safe to fly, we'll do our best to reschedule you. If you choose not to reschedule or we can't find a time that works for you, you will be refunded.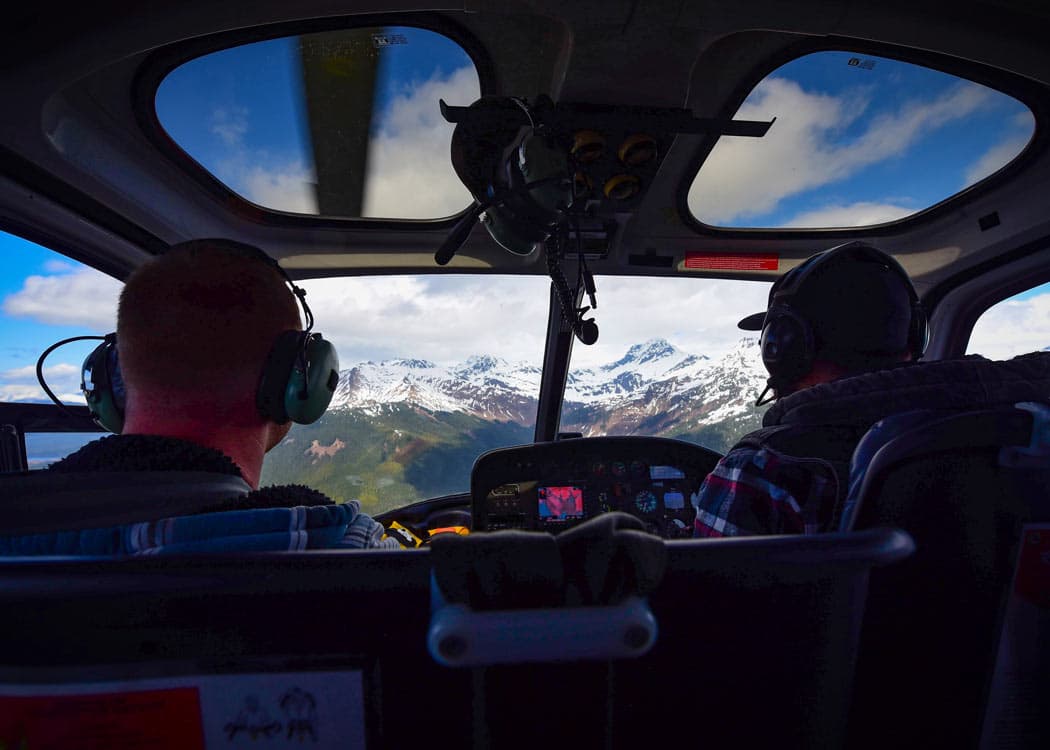 Our last words of wisdom: BOOK EARLY! Juneau helicopter tours sell out fast and are sometimes booked up to a year in advance! As soon as you know which excursion is right for you, book it! With our flexible cancellation policy, there is really no downside. Get ready, your incredible Juneau glacier flightseeing adventure awaits!
---
Check out these awesome glacier articles next: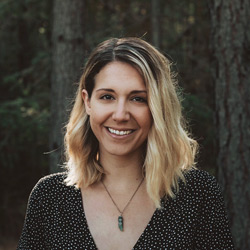 Cara L
Alaska Travel Specialist
Cara, our resident Marketing Coordinator, shares her passion for Alaska through our blogs and social media. She travels the Inside Passage each summer to explore new tours and hidden gems.