Mendenhall Ice Caves & Beyond: Juneau Glacier Tours Explained
October 12, 2020 / updated October 8, 2020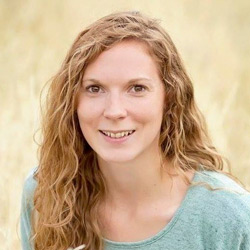 Mendenhall Ice Caves – So what exactly are the Mendenhall ice caves and why do people's eyes seem to light up with an enchanting glow when they hear those words? If you've done any research into the Mendenhall glacier tours Juneau offers, and seen any of the hundreds of pictures and videos posted about the Mendenhall ice caves, you'll understand why!
To keep things simple, when describing the Mendenhall ice caves, we mean a "cave" that is formed within a body of ice (usually a glacier) as water flows through the glacier and forms a passageway. They can range in size from small, barely-squeeze-through tunnels to huge crane-your-neck-to-see-it-all caverns. For a full description of what an "ice cave" is, check out our "What's the Deal with Glacier Ice Caves" blog.
Jump To:
Explore all Juneau glacier excursion options.
---
What are the Mendenhall ice caves like?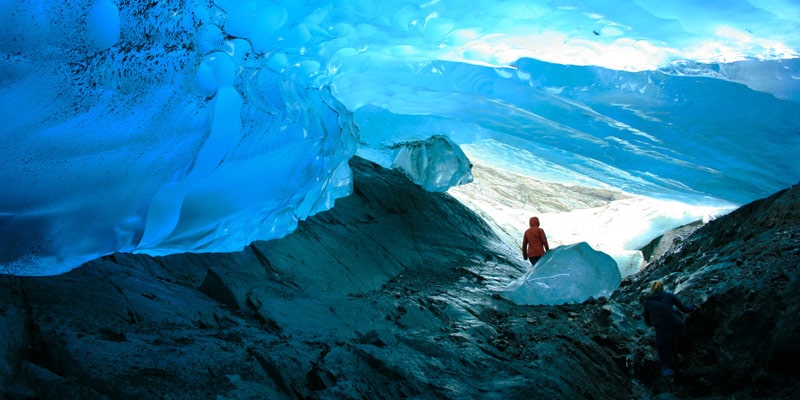 The Mendenhall Ice Caves are sure to amaze no matter what way you choose to see them.
My first experience in the Mendenhall ice caves was dreamlike. I simply couldn't wrap my head around the ethereal beauty of the caves! The dancing ombre of blues throughout the ice from aqua to sapphire to cobalt captivated me. I took photo after photo, trying to capture the magic, and then paused, lowered my camera, and just stood in awe, marveling at the dynamic canvas before me, letting it all soak in (and trying not to think about the hundreds of pounds of ice suspended above me!).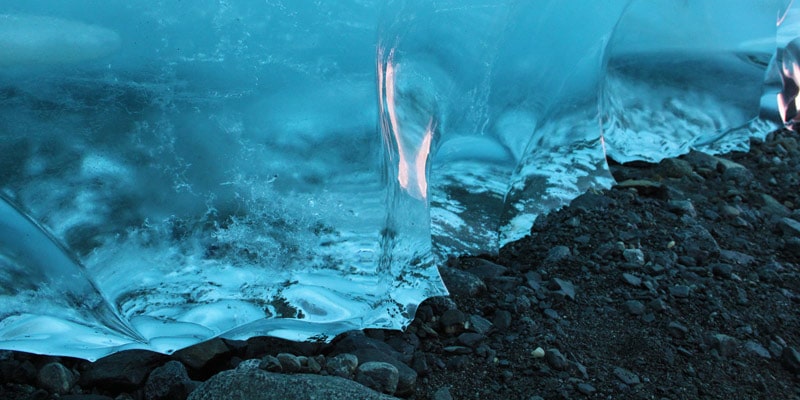 The blue ice gets in signature color as pressure forces air bubbles out of the ice.
---
What tours will get me to the Mendenhall ice caves?
Now I know you're all thinking, how can I get a piece of this delightfully enchanting ice cave pie? No need to start purchasing your own ice trekking equipment yet, as we've got you covered with our Mendenhall [Glacier tours in Juneau](/tours/juneau/glacier-walk)! Anytime you're out exploring the Mendenhall Glacier or Mendenhall ice caves, it's always best (and safest!) to go on a tour with a well-trained guide who will not only keep you safe but will do so while giving you the experience of a lifetime!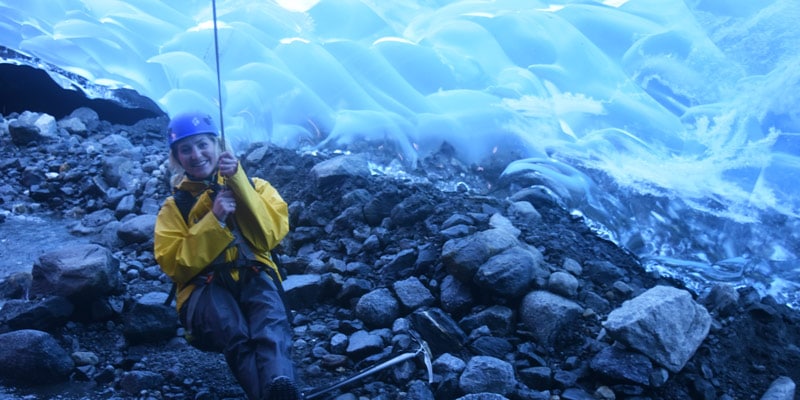 Just hanging out in a Mendenhall Ice Cave on the Glacier Canoe Paddle & Trek!
---
Am I guaranteed to see the Mendenhall ice caves?
Glaciers are dynamic, which means they are always changing. It's a well-known fact that Mendenhall Glacier has been receding at an alarming rate over the past decade, which has brought both beautiful and heartbreaking changes to the glacier and surrounding landscape.
As this river of ice continues to change, ice caves are formed and can last for months, weeks, or only a matter of days before melting and collapsing. For this reason, we never guarantee visits to, or entrance into the Mendenhall ice caves on any tour. Be assured though, if there is an ice cave open, accessible, and declared safe to enter by the guides (who are highly trained to recognize signs of stability or weakness within the cave), then you too can experience this phenomenal, icy "cave of wonders".
We know the selection of glacier tours can be overwhelming, so we've put together a list to make it easier! Check out all of the adventurous Mendenhall Glacier tours Juneau offers below: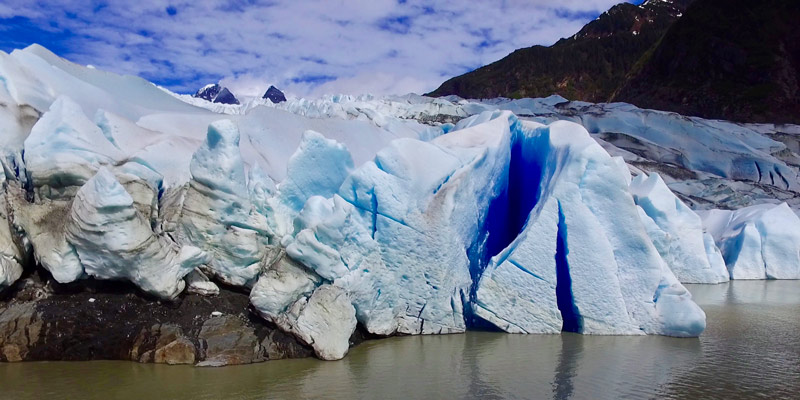 Even when you don't see ice caves, these glacier tours will take your breath away!
---
By far one of the most challenging and rewarding Mendenhall Glacier tours Juneau has available! You'll sleep well while dreaming of glaciers and ice caves after you cross this adventure off your bucket list! Rated as one of our most strenuous tours, be ready for a full 8-hour day of hiking and glacier trekking. The first part of the three-and-a-half-mile trek to through the Tongass National Rainforest to the Mendenhall Glacier starts off gently and then gradually climbs upward until the final and steepest ascent (rock scrambling included!) brings you to an awe-inspiring view of Mendenhall Glacier and the surrounding mystic landscape.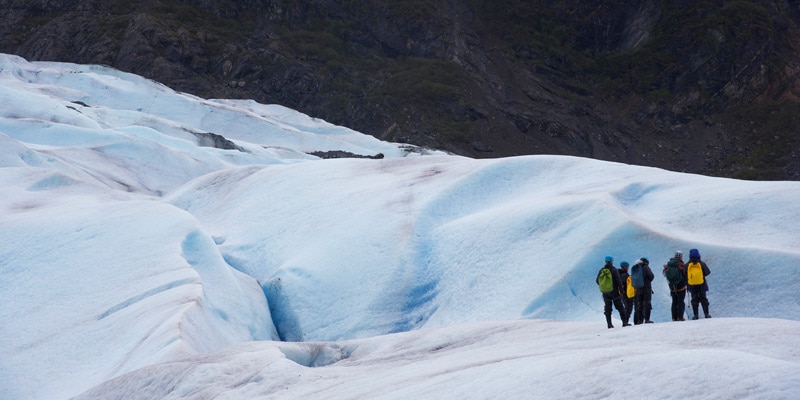 The Mendenhall Glacier Trek is a great way to explore the glacier, the ice caves, and the terrain created by it!
Once you reach the edge of the glacier, slide into your micro-spikes, harness, and helmet for the glacier trekking portion. Like an astronaut stepping on the moon, you'll explore this hauntingly beautiful and otherworldly landscape for approximately an hour with your naturalist guide. As you go, your guides will take you (carefully) to the edge of deep crevasses and allow you to peer into moulins echoing with the trickle (or sometimes roar) of water as it flows to the bottom of the glacier. Then, take a break and relax while you sip the world's most refreshing water straight from one of the sapphire blue pools.
And don't think we forgot about the Mendenhall ice caves! If open and accessible, your guide will escort you from the top of the glacier to its magnificent underbelly. Once inside, you'll have ample time to take photos, stand entranced at the mesmerizing display of lights and colors, feel the cool, glass-like surface beneath your fingers, even lick it if you want (on second thought, maybe not!).
If hiking 8-10 miles roundtrip doesn't sound like your cup of tea, keep reading to learn about other Mendenhall Glacier tours Juneau offers!
---
Glacier? Check. Mendenhall ice caves? Check (if possible). Adventure? Check. Fun? For sure! If you still want an active, exciting, jaw-dropping glacier tour without an intense leg workout, then you'll definitely want to sign up for the Mendenhall Glacier Canoe Paddle & Trek! Rated as one of the most popular Mendenhall Glacier tours Juneau has, this tour trades in hiking boots for rain boots as you paddle across Mendenhall Lake.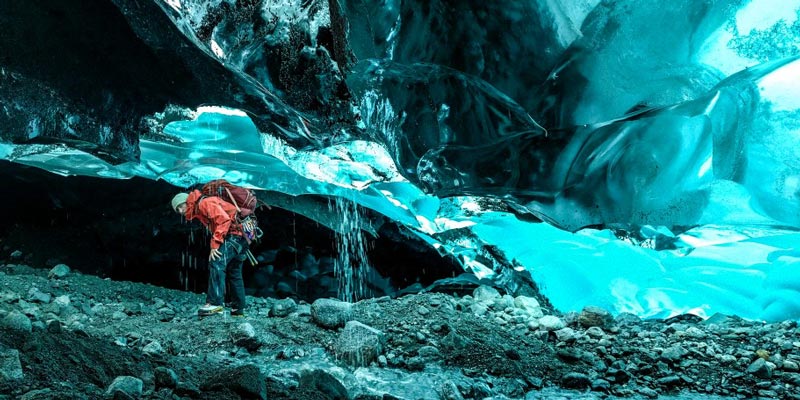 Your guides on the Paddle & Trek will determine whether the caves are safe to enter.
Don't be fooled into thinking this is a leisurely Sunday afternoon paddle though. Once you're all geared up with the necessary paddling equipment and in the canoes (each canoe holds either 7 or 12 guests plus a guide) be ready to paddle for 5 miles and sit in the canoe for up to 3 hours.
The paddle is an enthralling journey in itself as you glide across the (usually) calm waters of Mendenhall Lake, encircled by the towering peaks of giants such as Thunder Mountain, Mt. McGinnis or the Towers. Watch the famous Nugget Falls grow in scale and grandeur as you paddle closer, passing icebergs with Arctic Terns perched atop like silent sentinels. Keep a sharp eye out for bald eagles, the occasional beaver, and even mountain goats. Keep your camera easily accessible as you navigate around the peninsula to catch the majesty of Mendenhall Glacier right in front of you!
Once you've hit the shore next to the Mendenhall Glacier, you'll begin the glacier trekking portion of the day. With trekking pole in hand you'll navigate your way over large, loose rocks, muddy glacial silt pits (ask your guide about "glacial facials" on the way back!) and through a stream to reach the glacier. As with the Mendenhall Glacier Trek, if open and accessible, your guide will let you experience the enchantment of the Mendenhall ice caves before continuing up to the top of the glacier. Expect to spend approximately 1-2 hours exploring the glacier before returning to the canoe.
Think you want to spend more time on the glacier or have a more personalized and customized experience for your family or group? Good news! These popular Mendenhall Glacier tours Juneau offers can also be booked as private tours!
---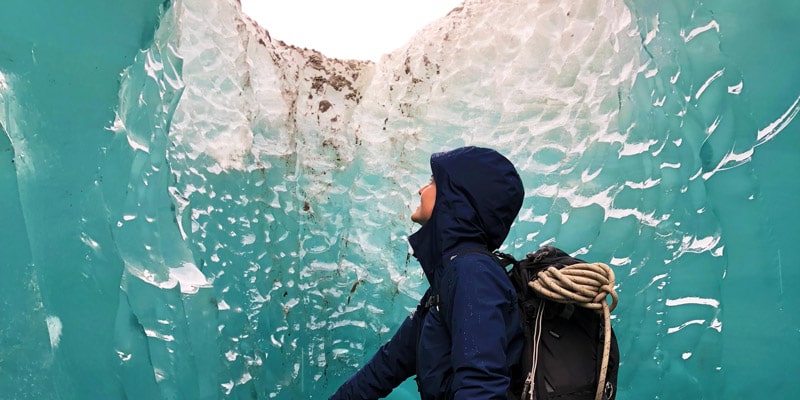 With Private tours, you have more time to explore the glacier & find cool features like this ice feature!
What's the advantage of booking a private tour? Worried that you might slow the group down, or, on the flip side, that the group might slow you down? Want a more customized experience for your family or group with your own personal guide and more time to explore? Are you an avid photographer who wants time to capture that perfect shot? Want to propose to your significant other in the Mendenhall ice caves or even get married atop the glacier???
If you said yes to any of those questions, then the exclusive Private Mendenhall Glacier Trek or Private Kayak Paddle & Trek might be the perfect tours for you! Let's look at a quick breakdown of what these tours offer over their public equivalents:
Private Mendenhall Glacier Trek:
Up to an additional hour of tour time (9 hours vs. 8 hours)
Allows children as young as 8 years old to participate (vs. 10 years old on public)
Hike & trek at your own pac
Customizable & personalized to your groups' specifics interests, including photography, proposals, weddings, additional glacier or ice cave exploration, etc.
Private Mendenhall Glacier Kayak & Trek:
Up to an additional hour and a half of tour time (8 hours vs. 6.5 hours)
Paddle at your own pace in state-of-the-art tandem kayaks
Customizable & personalized to your groups' specifics interests, including photography, proposals, weddings, additional glacier or ice cave exploration, etc.
Very Important Note! Due to the exclusivity of these public & private tours, small group sizes (6:1 client to guide ratio), and the high demand to visit Mendenhall Glacier and explore Mendenhall ice caves, these tours fill up extremely fast! So, you will not want to delay booking these tours or someone else might snatch up your seat!
So what if your cruise ship schedule doesn't allow you time to complete one of the more rigorous Mendenhall Glacier tours Juneau has? Or what if you're content admiring the glacier from afar and want to take advantage of other popular attractions in Juneau? How cool would it be to see glaciers and whales in the same day? There are still more popular Mendenhall glacier tours Juneau can offer!
---
Whales, Glaciers & Juneau, oh my!
Juneau is the port for glaciers and whales! Add the fact that it's also the state capital and you've suddenly got more things to see and do than time to take it all in – or do you? While none of the following Mendenhall Glacier tours Juneau offers will get you onto the Mendenhall Glacier or into the Mendenhall ice caves, they get you out to the Mendenhall Glacier Visitor Center. Here, you can still see the glacier, take amazing photos, and even hike out to Nugget Falls. In addition, you can also pair it with a whale watching tour or a Juneau city tour, or both! Here are the options: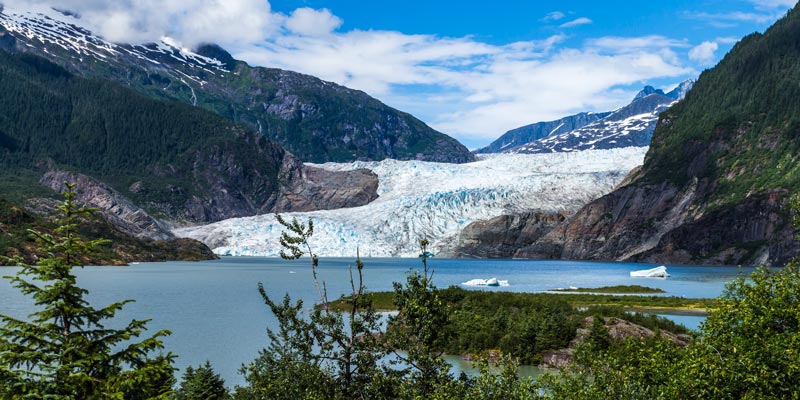 Even from a distance, the Mendenhall Glacier is a stunning sight to behold!
Whale Watching & Mendenhall Glacier Combo
Hands down one of our most popular tours! Launch from Auke Bay and spend two hours on the water searching and seeing humpback whales, and, if you're lucky, orca whales! Then be transported out to the Mendenhall Glacier Visitor Center. Entrance to the visitor center is included in your ticket price. As such, feel free to check out the center & learn about the glacier, venture out to Nugget Falls, and of course, take gorgeous pictures with the glacier as your backdrop.
Not interested in whales? Skip the whale watching and head straight to the Mendenhall Glacier Visitor Center. Once your back downtown, take a ride up the Mt. Roberts Tram or enjoy a fresh king crab leg at Tracy's King Crab Shack.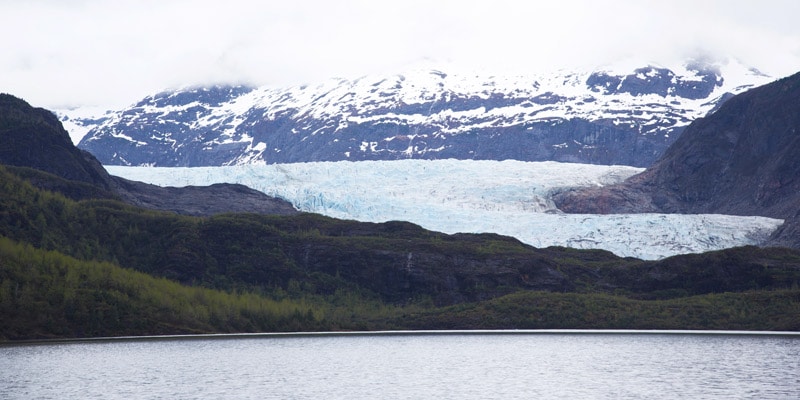 Have your camera's ready no matter which glacier tour you choose!
When should I book?
So, what are you waiting for? If you're thinking about booking one of the incredible Mendenhall Glacier tours Juneau offers, my best recommendation is, just do it! These incredible experiences go quickly. Of all the Mendenhall Glacier tours Juneau is home to, you're bound to find one that will amaze! And, if you're like most people traveling to Alaska, this is a once-in-a-lifetime opportunity. So, go above and beyond the ordinary and make it extraordinary! Book Juneau glacier tours here.
---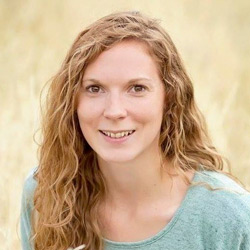 Kat was born & raised in Alaska, and grew up playing on glaciers, fishing for salmon, and picking wild berries, often all in one day. Her work at Alaska Shore Tours allows her to stay connected to the state she loves and share her home with fellow adventurers.